Culture
Science and culture have been intimately connected throughout history.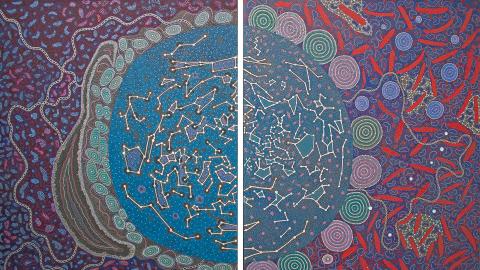 As an integral part of society and its aspirations to understand the Universe, the SKAO has developed and will continue to develop strong links with culture by influencing art, poetry, writing and pop culture in myriad ways, whether it is the SKA science inspiring artworks, the project appearing in fiction novels or elements of pop culture such as TV ads, science fiction movies or political cartoons.
Astronomy and its use of remote, pristine locations also offers many tourism opportunities (astrotourism), and there is a growing awareness of its potential to boost local economies by regional stakeholders around professional observatories. The SKAO will harness such potential by collaborating with the local communities near Carnarvon in South Africa and Geraldton in Western Australia, benefiting from the uniqueness of the dark skies around the telescope sites.
Last, but not least, the SKA and precursor telescopes generate thousands of media articles a year, extending the reach of astronomy research and improving science literacy around the globe. As the profile of the SKAO grows, the breathtaking nature of the telescope sites and the images that the telescopes will start to produce late in the 2020s, will increase the Observatory's prominence in mainstream and prestigious media, helping to cement the SKAO's position in popular consciousness.
Last modified on 05 July 2022