Partners
With 40% of the world's population across the partnership, the SKA Observatory is truly a global enterprise.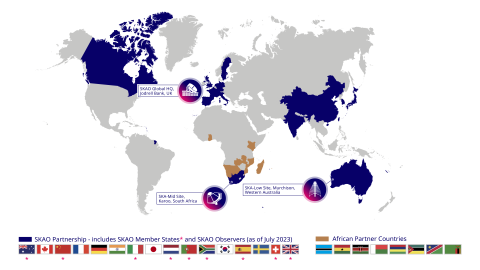 Organisations in 16 countries are currently taking part in the SKA project at government or national-coordination level or are represented as observers – Australia, Canada, China, France, Germany, India, Japan, Italy, the Netherlands, Portugal, South Africa, South Korea, Spain, Sweden, Switzerland, and the United Kingdom. Eight African partner countries are involved in coordinated action to support the future expansion of the SKA project in Africa.
Furthermore, around 100 organisations across about 20 countries participated in the design and development of the SKA project, including the detailed design  of the telescopes in the last 10 years. Many of these organisations and their experts are now involved in construction activities. Download the SKA partnership map.