Contact: the SKAO's magazine
Contact covers the broad range of SKA-related activities taking place around the world, from science breakthroughs and technology innovations, to construction milestones, policy developments and outreach efforts.
Sign up to Contact
If you'd like to receive future issues of Contact directly to your inbox, sign up to the SKAO mailing list via this form.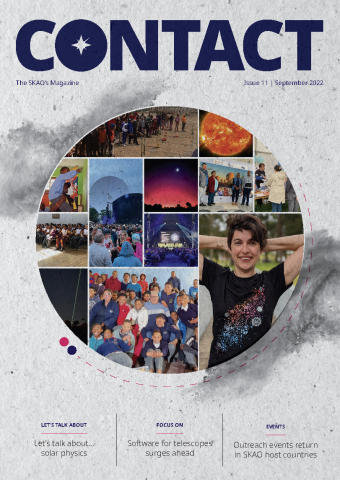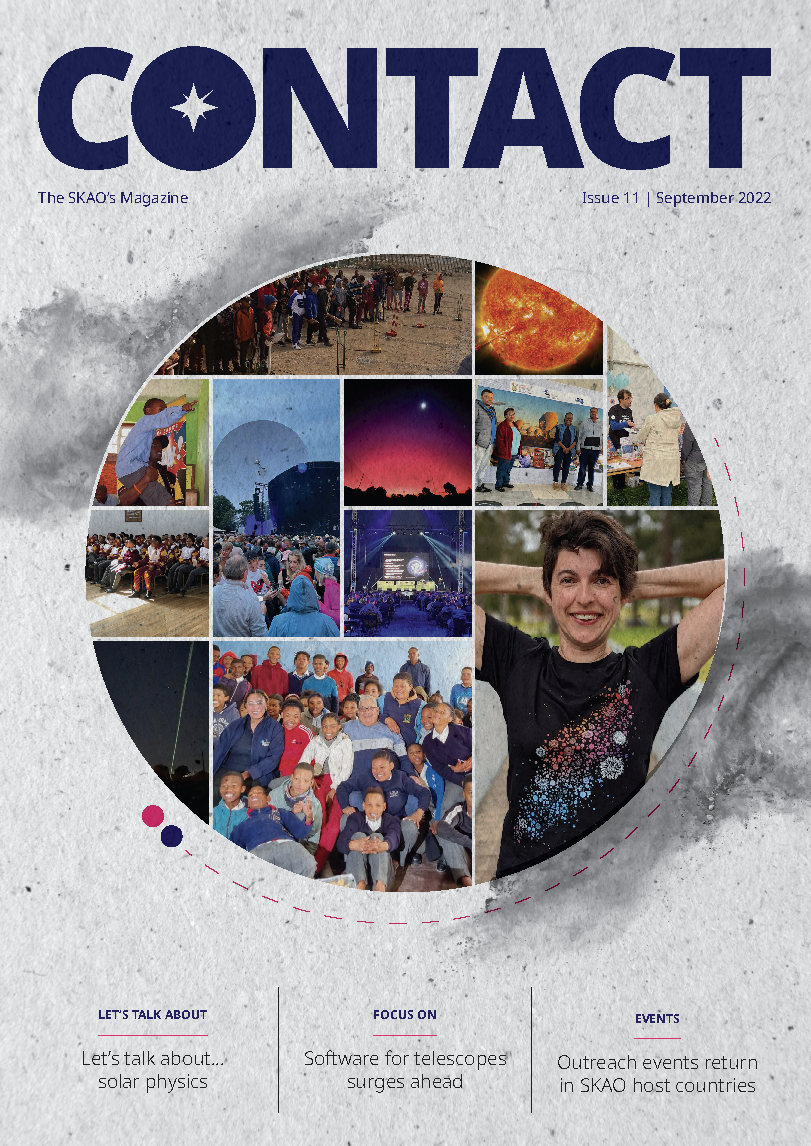 In the latest issue of Contact, our 11th edition, we're celebrating the return of outreach activities – read about the National Science Weeks in Australia and South Africa and the SKAO's participation in the bluedot festival of science, art and music in the UK. Also in this issue: the Observatory's third Science Data Challenge gets under way, scientific highlights from SKA pathfinder facilities, and much more.
Contact is published via the electronic publishing platform Issuu (for the best viewing experience, the Issuu app is available via the Apple and Google app stores). Alternatively, scroll down to view PDF versions of each edition.
Contact is produced by SKAO's Communications team.
Editor: William Garnier
Editorial team: Mathieu Isidro, Cassandra Cavallaro, Anim Van Wyk
Design: Joe Diamond, based on an original design by Carbon Creative.
All images in Contact are courtesy of the SKAO unless otherwise indicated. See our terms of use here. 
Submitting an article to Contact
We are eager to showcase the breadth of activities taking place across the SKAO world, and as such welcome contributions to Contact! If you would like to contribute, please first submit your idea to the editorial team for discussion at magazine@skao.int. Once your idea has been accepted, you will be provided with submission instructions. The editorial team reserves the right to edit submissions, in consultation with the authors.
PDF versions & Print Ready Files
If you wish to download or even print Contact for yourself, you can find all the relevant files in our SKAO Multimedia Library