SKAO stands on shoulders of South African expertise
SKAO's precursor telescope MeerKAT has generated significant investment in South Africa, supporting a cross section of the local and national economy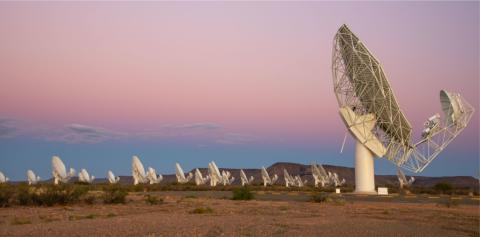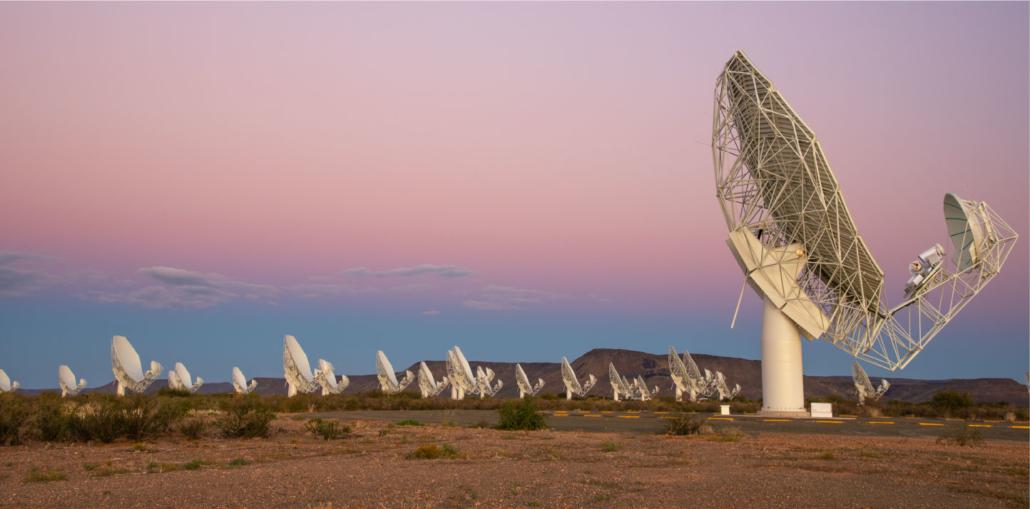 Its array of 64 interlinked dishes, sitting 90 km from the small Northern Cape town of Carnarvon in the Karoo, will be integrated into the Square Kilometre Array.
MeerKAT enabled South Africa to develop world-leading capabilities in design and build of cutting-edge radio telescopes, supercomputing systems, engineering and technical skills.
Designed entirely by South Africans, MeerKAT is currently recognised as the most advanced radio telescope on Earth, and is among several pathfinder facilities proving the science and technology that will be employed on a much larger scale by the SKA telescopes.
MeerKAT has already realised the following benefits both locally in the Northern Cape, and nationally:
·   8,785 direct and indirect job opportunities created in the Karoo region.
·   364 technicians trained from local communities.
·   R182m (€9.1m ) spent with local Karoo suppliers, and R33m spent on local emerging contractors.
·   90% of Karoo-based staff originate from local communities.
·   56 small, medium, and micro enterprises (SMMEs) from all local towns were identified and went through the Karoo Entrepreneurship Development Programme. These SMMEs have been mentored and trained on how to implement their newly acquired business skills in their own businesses.
·   R147m (~€7.3m ) Awarded to 21 SMMEs nationally through a financial assistance programme. This has empowered local and national industry and institutions to acquire skills and expertise in advanced technologies and development programmes.
·   27 local people employed from Carnarvon and surrounding communities, working in operations and maintenance of the infrastructure and telescopes, housekeeping, and security services. An accredited artisan training centre has also been established in town to train electrical engineers.
·   Three patents were granted in South Africa as part of the Commercialisation and Innovation Programme, alongside six trademarks. The SANSA project, focusing on developing a data cube for the pre-processing of Earth observation data for ease of use by their customers was also developed as part of that programme.
The development of a radio astronomy site in the Karoo for the SKA has also enabled South Africa to take part in other international radio astronomy collaborations that are bringing benefits to the country.
The site is now also home to the HERA telescope, an array of 350 antennas situated next to MeerKAT incorporating South African, British and US expertise. HERA was built with the help of a team of locally trained artisans. 
As the hosting organisation and contributing partner in the broader HERA collaboration, the South African Radio Astronomy Observatory (SARAO) procured essential parts of the telescope locally, and HERA was built by a team of local artisans from Carnarvon.
The site selection for SKA South Africa was of such a good standard that we attract more international funding to South Africa