SKAO's indigenous astronomy art collection set to wow thousands in the Netherlands
Shared Sky: Canvases of the Universe – a cultural look at the starry sky by Aboriginal Australian and South African artists – opened in Leiden's Old Observatory last month. The exhibition is sponsored by Leiden University, ASTRON (the Netherlands Institute for Radio Astronomy), and the SKA Observatory.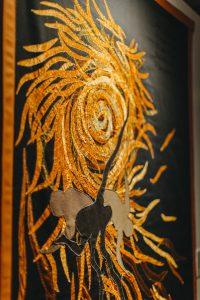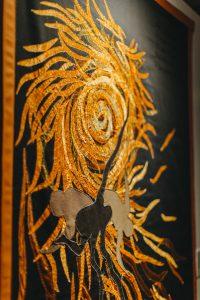 We are happy for the opportunity to share these exciting and inspiring works of art with the public and tell them about the Netherlands' role in the SKA project," said ASTRON's head of communications, Frank Nuijens. "The SKA project is a global endeavour that we're proud to be a part of. That is why the global theme of the exhibition, the shared sky, appeals so much to us."
Set in the heart of the city of Leiden in the Netherlands, the Old Observatory is the oldest remaining university observatory in the world. The likes of Albert Einstein and pioneer Dutch astronomer Jan Oort made use of what were cutting-edge facilities at the time. Now a museum and visitor centre, the Old Observatory welcomes thousands of visitors every year. A total of 20,000 visitors are expected to view the exhibition, which will remain on display until May 2022.
The Old Observatory's education and community engagement manager, Sanne van Gammeren, described the exhibition as an "approachable way to connect people with astronomy" and said that it has already proven to be highly engaging in the few weeks that it's been open to the public.
"When we saw the art pieces with our own eyes for the first time, we were immediately astonished," she said. "Not only did we develop an intrinsic curiosity about the stories behind the artworks, our hands also started to itch to create art ourselves."
"It is fantastic to see Shared Sky travelling again," added Sarah Lamb, SKAO's events lead. "The exhibition toured extensively before the pandemic, and we're keen for that to pick up again and for as many people as possible to enjoy these beautiful artworks and learn more about the rich indigenous heritage of the SKA sites." 
When not travelling, the artworks are on permanent display at the SKAO headquarters in the UK. They were last exhibited internationally at the European Commission headquarters in Brussels in 2018.
If you're in Leiden, you can visit the exhibition:
between 10:00 and 16:00 every weekend until 15 May 2022 (entrance through Hortus Botanicus Leiden)
every day between 10:00 and 16:00 from Tuesday 9 November to Sunday 14 November during the 2021 Art-Science Week in Leiden.
(Note: If you can't make it to Leiden but are keen to see the exhibition, head over to our virtual gallery to admire the artworks.)