SKAO signs agreement with Sweden's Chalmers University of Technology
At a ceremony held online last week, an agreement was signed between the SKAO and Chalmers University of Technology in Sweden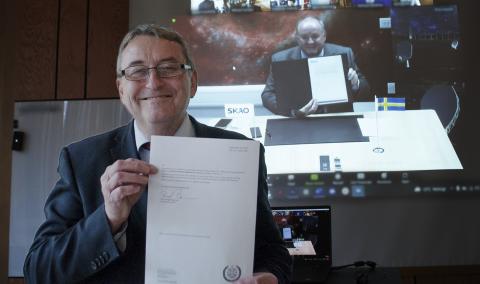 The documents signed on 30 September 2021 by Prof. Philip Diamond, Director-General of the SKA Observatory (SKAO), and Prof. Stefan Bengtsson, Chalmers' president, give the university the responsibility of representing Sweden in the project during the next two years. During that time, national processes will continue towards establishing Sweden as a member country of the SKAO.
Onsala Space Observatory represented Swedish interests in the SKA design process between 2012 and 2021 as a member of the SKA Organisation, the precursor to the SKAO, with Chalmers and Swedish companies making important contributions to the design and prototyping of the SKA telescopes, in particular in the development of receivers, low-noise amplifiers and digital samplers.
"Sweden has been involved in the SKA project since the start. It's wonderful to welcome Chalmers and Onsala Space Observatory in this new official role, just as building work is starting in South Africa and in Australia," said Prof. Diamond.
"With the new agreement in place, Chalmers has a new, official role as leading Swedish interests in the construction of the SKA Observatory's giant telescopes. Funding for Swedish participation in the construction project is already secured, thanks to support from the Swedish Research Council and Vinnova," said Prof. Lars Börjesson, Council member of the SKAO.
The new agreement means that Swedish companies are now eligible to tender for industrial contracts.
"Scientists in Sweden and all over the world want to use the SKA telescopes to ask some of our biggest questions about the universe. Membership of the SKA Observatory makes it possible for Swedish science and technology to be involved in building of these unique telescopes. It also ensures access to scientific data, and the chance to make exciting discoveries in astronomy and physics," explained Prof. John Conway, director of Onsala Space Observatory and professor of radio astronomy at Chalmers.
Swedish involvement in the SKAO is also opening new opportunities in data storage, machine learning and artificial intelligence. "At Onsala Space Observatory we've already started exploring these opportunities, working together with the Chalmers Fraunhofer Centre for Industrial Mathematics. That was demonstrated recently by an outstanding Swedish team performance in a recent international data challenge, applying machine learning to simulated SKA data," said Prof. Conway.
For more information, see the press release from Chalmers.