Pulsars
This working group addresses fundamental physics through the study of pulsars and gravitational waves.
Pulsars Working Group Introduction
The SKA Science Working Group on Fundamental Physics with Pulsars aims to ensure that the SKA will address some of the major unsolved problems of modern physics by tackling fundamental questions in ways that cannot be matched by any other experiment:
Is General Relativity the ultimate theory of gravitation and, if not, what theory will replace it?
What is the equation of state of matter beyond nuclear densities?
How do super-massive black hole binary systems merge?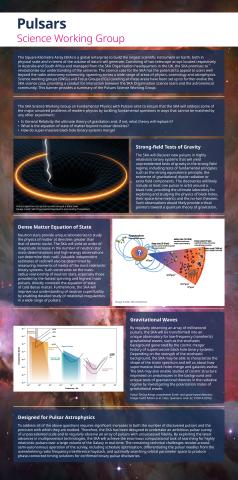 Working Group Membership
Members of the the Pulsars Science Working group can be found here
We actively encourage interested researchers to participate in the working group.
Please contact the co-chairs if you are interested in joining the group, with a brief description of your area of research.
The current co-chairs are:
Guidelines on who can join the group can be found here
The SKAO Project Scientist liaison is Anna Bonaldi.
Related 2015 "Advancing Astrophysics with the Square Kilometre Array" Chapters
See appropriate section here
Related 2004 "Science with the Square Kilometre Array" Chapters
"Strong field test of gravity using pulsars and black holes" Kramer et al.
"Pulsars as tools for fundamental physics and astrophysics" Cordes et al.
Previous Chairs
Gemma Janssen (2021-  )
Willem van Straten (2021- )
Ingrid Stairs (2016-2018)
Andrea Possenti (2015-2017)
Ben Stappers (2013-2016)
Michael Kramer (2013-2015)
Last modified on 28 November 2023